NHC Hair Loss Treatment Products Stop Thinning Hair and Maximise New Hair Regrowth
Powerful and fast-acting
Our clinically proven hair regrowth treatment products naturally treat hair loss & thinning hair
Recommended by Hair Health Australia as safe and effective hair loss / hair regrowth treatment products
FREE POSTAGE to anywhere in Australia when you spend over $10
Natural Hair Care is an Australian based and owned research and development facility with years of extensive experience in hair loss and hair regrowth treatments by drawing on the most up-to-date International advancements. This enabled us to develop a product range formulated with the most powerful hair regrowth ingredients available, and clinically test our products to ensure they are safe and effective in treating hair loss and thinning hair naturally.
All NHC hair regrowth treatment products contribute to the normalisation of the hair growth cycle and effectively halt and reverse the hair loss process naturally, without any side-effects or long term dependency.
NHC Products are most effective when used in conjunction with each other, as it is best to treat hair loss / thinning hair from the inside out, consisting of oral capsules and topical treatments – which are absorbed by the scalp via natural delivery systems directly to the hair root structure.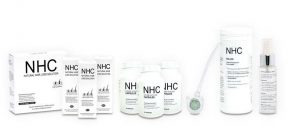 To effectively treat your hair loss / thinning hair and maximise your hair regrowth results, NHC has put together the 'Ultimate Hair Regrowth Pack' offering you an amazing saving. This package includes a complete supply of Natural Hair Loss Capsules, Natural Hair Loss Solution, Micro-needling Roller and Micro-needling Roller Sanitiser Spray.
All NHC products are recommended by Hair Health Australia as safe and effective hair loss treatment products.
EXCITING NEW PRODUCT 'KERATINBooster'

Instantly thicker and fuller hair naturally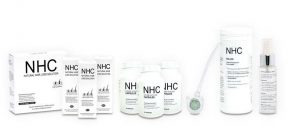 NHC has developed the latest cosmetic breakthrough KERATINBooster for men and women with thinning or fine hair.
NHC KERATINBooster is a natural organic keratin micro-fibre which instantly gives a thicker and fuller head of hair as soon as the product is applied with an amazing undetectable look.
Made of pure organic protein, the same protein which your hair is made of, KERATINBooster is completely undetectable and resistant to wind, rain and perspiration, yet easily washes out with shampoo.
KERATINBooster can be used safely and effectively with any other NHC treatment product or any other styling product.
No other product can achieve these instant results, so you can throw away all those useless volumeisers for instant thicker hair with KERATINBooster which works first time and every time.